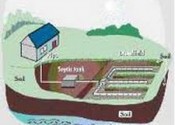 Septic Systems. When buying or selling a home in Kentucky or Indiana in a neighborhood with septic tanks, make sure you inquire whether there are plans by the local municipality to convert to a public sewer system, because this could result in substantial future cost to the buyer when that occurs. If you are seller in such a neighborhood you should disclose this to potential buyers in your seller disclosure. The conversion from septic system to public sewer system may occur because the county health department has declared the neighborhood's septic systems failed or it may occur simply for environmental reasons. And even if you are in a neighborhood where the public sewer system is in use does not necessarily mean that the particular home you are considering buying has actually made the conversion and tied into the public sewer system.
Why convert from a septic system to public sewer service? Septic systems have limited life spans and some property owners may not have sufficient land with an adequate percolation rate for a replacement or reserve leach field area when the existing system fails. In such cases, the only alternatives available may be an expensive, engineered septic system or abandonment of the septic system and connection to the public sewer system. Additionally, some municipalities may require you to connect to the sewer when your existing system fails or if you are planning substantial improvements to your home. Converting from an individual private septic system to public sewer may increase the market value of your property. Furthermore, if your existing septic system is failing, the marketability of your property may decrease until you fix the situation by repairing/replacing your septic system or connecting to the public sewer system. Finally, be aware that a septic system can limit the ability to expand your house or build over portions of your property.
What are the costs involved in converting? The first cost depends on whether a public sewer is adjacent to your property and suitable for your use. A public sewer is usually eight inches in diameter and may be located in a street or a sewer easement through private property. If no suitable public sewer is available, you will be responsible for extending a public main sewer from the existing system to your property. The cost for you to extend a public main sewer to your property can run approximately $200 per foot, or more, depending on the difficulty of the terrain, geotechnical concerns, the need to acquire easements, amount of engineering work required, pipe and backfill materials specified, methods of construction employed, and surface restoration requirements. The cost of this work can sometimes be shared with your neighbors who also would benefit from the availability of a public sewer adjacent to their properties. Longer, shared sewer projects allow for an economy of scale in design and construction that reduces the cost per property, as compared to each property owner sequentially installing a separate sewer extension. Depending on the method of financing, this cost may be paid directly by the property owners to the engineers and contractors they hire to do the work, or may be payable over time, either by means of privately obtained financing, or as an assessment on your annual property tax bill.
Septic System Design A gravity flow design from your house to the sewer is preferred. Most municipalities will allow the installation of an individual residential pump if a gravity system is infeasible and. the property owner is responsible for this constructing. A portion of this sewer may have been stubbed out from the public sewer to your property when it was constructed. Property owners may do work on their own property, but construction within public rights-of-way or easements requires hiring a licensed contractor. The existing pipeline from the house to the septic tank may be used as part of the new sewer only if it is a minimum of four inches in diameter and passes a pressure test. A side sewer is then constructed the rest of the way (sometimes wrapping around the house) to the public sewer. Alternatively, plumbing beneath the house sometimes can be redirected toward the public sewer so as to avoid having to construct a pipeline around the house. The cost of a side sewer is approximately $20 to $30 per foot on private property (excluding surface restoration) and $50 to $100 per foot in paved streets. This cost is paid directly by the property owners to the contractors they hire at the time the work is done.

Kentucky
Comprehensive overview of Kentucky's Wastewater Treatment Systems
http://kia.ky.gov/nr/rdonlyres/7787e7b1-ee36-430f-bba7-31e47e7c819c/0/kipdarpt2.pdf
Louisville, Jefferson County – Metropolitan Sewer District (MSD)
http://dp.msdlouky.org/DP1/Metroplex/Louisville/customerservice/selectbyservno.asp
Oldham County – Oldham County Environmental Authority
http://oldhamcountyenvironmentalauthority.com/contact-us.html
Bullitt County
http://www.mtwky.org/?page_id=87
Henry County
http://www.thinkkentucky.com/edis/cmnty/Util.aspx?cw=089
Shelby County
http://www.thinkkentucky.com/edis/cmnty/Util.aspx?cw=051
Meade County
http://govguru.com/kentucky/t/meade-county/sewage-treatment
Nelson County
http://govguru.com/kentucky/t/nelson-county/sewage-treatment
Spencer County
http://www.thinkkentucky.com/edis/cmnty/util.aspx?cw=050
Indiana
Information about septic issues can usually be found by visiting the county health department websites.
Floyd County:
http://www.floydcountyhealth.org/
Clark County:
http://www.clarkhealth.net/septic.htm
Harrison County:
http://www.harrisoncountyhealth.com/septic_system_information.htm
Scott County:
http://www.scottcountyinhealthdept.com/

Certainty Home Inspections provided the information concerning septic system conversion, costs and design.